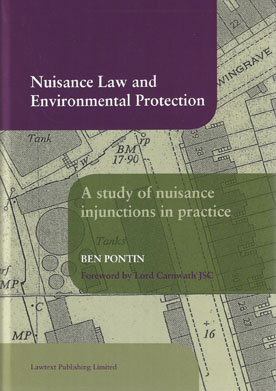 Environment, Law, and History: Nuisance injunctions
"Nuisance injunctions
The Journal of Environmental Law has a
review
by Patrick Bishop of Ben Pontin's
Nuisance and Environmental Protection - A Study of Nuisance Injunctions in Practice
(Lawtext, 2013) (Ben
blogged here
about the book and his related work last summer.)
Bishop writes:
This book's aim is succinctly stated from the outset, namely to examine: 'what nuisance law is with reference to what it does in practice, in circumstances where a claimant is awarded an injunction to restrain ongoing pollution' (p 1).
Pontin posits various nomenclatures to describe his methodology, 'realist', 'law-in-action' or 'law-in-context' (p 3), but in essence the approach adopted is contextual.... The intention is to elucidate the socio-economic and environmental impact of nuisance injunctions by the study of materials extraneous to the law reports; in summary this book intends to broaden and enhance our understanding of nuisance by considering 'what happened next'.
...the introduction provides a discussion of the main theories relating to the effect of the grant of an injunction.
The author identifies four hypotheses gleaned from the literature. First, the idea that the grant of an injunction is likely to result in the closure of the defendant's polluting exercise (the closure theory). Secondly, it will simulate thinking and investment into new modes of business in a manner which eliminates or at least reduces pollution to acceptable (non-actionable) levels (the clean-up theory). Thirdly, there is the possibility that an injunction might force the defendant to relocate its place of business to an alternative area where the nature of the locality is such that the polluting activity would not constitute an actionable nuisance (relocation theory). Finally, the parties might enter into a post injunction bargain, whereby the claimant is paid to move on or waive their legal rights as suggested by Ronald Coase in his ground-breaking work, 'The Problem of Social Cost', (Coase theorem).
Thus, while it is Pontin's intention to produce a text of practical significance, useful to potential litigants as well as lawyers and academics, the discussion of each of the four cases is grounded in theory and the outcome of each case study is judged against the four hypotheses identified."
'via Blog this'