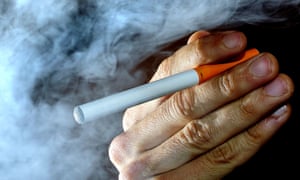 Public health agency backs e-cigarettes as safer than smoking The Guardian
by James Meikle
Vaping is safer than smoking and could lead to demise of the traditional cigarette,
Public Health England
(PHE) has said in the first official recognition that e-cigarettes are less damaging to health than smoking tobacco.
The health body concluded that, on "the best estimate so far", e-cigarettes are about 95% less harmful than tobacco cigarettes and could one day be dispensed as a licensed medicine in an alternative to anti-smoking products such as patches.
While stressing that e-cigarettes are not free from risk, PHE now believes that e-cigarettes "have the potential to make a significant contribution to the endgame for tobacco".